Soon, Policing without Policemen in Dubai
Posted On March 13, 2018
Soon, you will see policing without policemen in Dubai - through surveillance blimps and mobile 'stations in patrol' - as the Dubai Police ramp up its security work to the next level, using modern technology and advancements.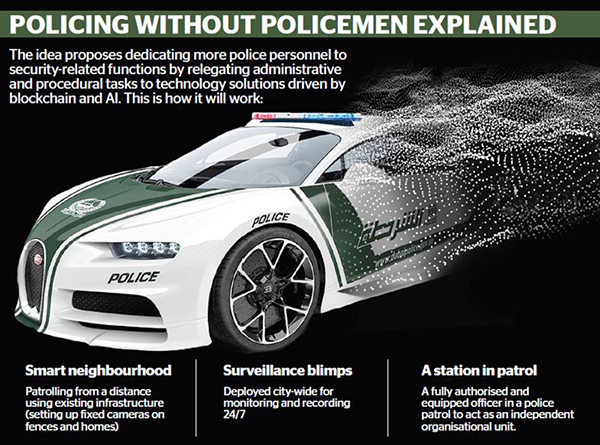 The force has announced its latest project - 'Police Without Policemen' - as part of the Dubai 10X initiative. It will make Dubai a city of the future, using three specific activations that ensure security using futuristic solutions.

The three activations are: Fixed cameras on homes and fences, for community security; a surveillance blimp which will act as an early warning control system at open spaces and construction sites; and 'Station in Patrol' for rapid emergency response, replacing traditional police stations.

These projects were launched by Sheikh Hamdan bin Mohammed bin Rashid Al Maktoum, Crown Prince of Dubai and Chairman of Dubai Future Foundations's (DFF) Board of Trustees, along with several other proposals for Dubai 10X - at the 6th World Government Summit in February 2018.

The Dubai 10X initiative seeks to position all of the emirate's government entities 10 years ahead of the rest of the world in all sectors, therefore propelling it into the future. Major-General Abdullah Khalifa Al Marri, the Dubai Police Commander-in-Chief, said: "With these projects we are bringing to reality a concept, to achieve the highest levels of security and safety for our people without the need for policemen being present on-ground24/7."

"Sometimes, in traditional policing, valuable time is lost in identifying and arresting criminals. However, with this new disruptive innovation, deploying the latest technologies, we aim to scale up operational efficiency. It will help us achieve our goal of serving the people." The projects will enhance the ability of police to respond swiftly to future challenges, and are aligned with the with smart police stations announced by Maj-Gen Al Marri.

The Dubai Police are working with Dubai Silicon Oasis Authority and other property developers, as well as private sector entities, to complete the projects in 2 years. DFF CEO Khalfan Belhoul said: "The police play a central role in ensuring the safety and security of the people and our national assets. The projects announced by Dubai Police as part of the Dubai 10Xinitiative leverages disruptive innovation to strengthen safety standards that will benefit the entire city."
Source: Khaleej Times