Dubai's Ruler Breaks Ground on World's Biggest Concentrated Solar Power Project
Posted On March 20, 2018
Sheikh Mohammed bin Rashid Al Maktoum, the UAE's Vice President and Prime Minister and Ruler of Dubai, has broken ground on the world's biggest concentrated solar power (CSP) project.

The 700MW project forms the fourth phase of the Mohammed bin Rashid Al Maktoum Solar Park in Dubai.

The CSP project, based on the Independent Power Producer (IPP) model, will feature the world's tallest solar tower measuring 260 metres and the world's largest thermal energy storage capacity.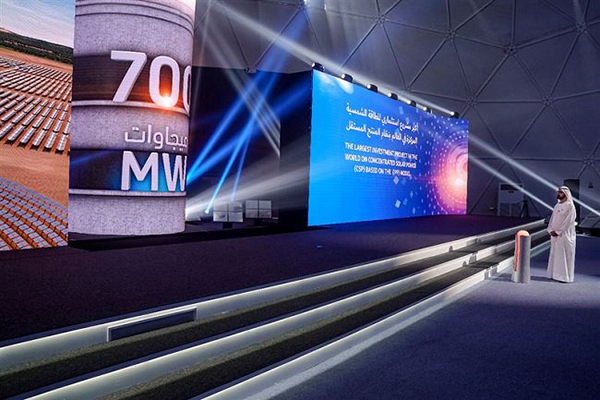 It will use two technologies for the production of clean energy: the 600MW parabolic basin complex and the 100MW solar tower over a total area of 43 square kilometres.

Built with an investment of Dhs14.2bn, the project has also achieved the world's lowest levelised cost of electricity (LCOE) of $7.3 cents per kilowatt hour (kW/h).

When ready, it will provide clean energy to over 270,000 residences in Dubai, reducing 1.4 million tonnes of carbon emissions a year, a statement said.
The wider Mohammed bin Rashid Al Maktoum Solar Park currently coming being built in Dubai is the largest single-site solar park in the world, based on the IPP model.

It will generate 1,000MW by 2020 and 5,000MW by 2030. The 13MW photovoltaic first phase became operational in 2013. The 200MW photovoltaic second phase of the solar park was launched in March 2017.

The 800MW photovoltaic third phase will be operational by 2020, and the first stage of the 700MW CSP fourth phase will be commissioned in Q4 of 2020.

A consortium comprising Saudi Arabia's ACWA Power and the Silk Road Fund, in collaboration with China's Shanghai Electric has been appointed as the main contractor for the project.

Saeed Mohammed Al Tayer, managing director and CEO of Dubai Electricity and Water Authority (DEWA) asserted that the project will support the UAE's diversification strategy to move its economy away from oil.

"It will also achieve the Dubai Clean Energy Strategy 2050 to provide 75 per cent of Dubai's total power output from clean sources by 2050, and the UAE Centennial 2071, to raise the UAE's status as the best country in the world," he said.

Dubai's clean energy strategy aims to make the emirate a global hub for clean energy and green economy and establish it as the city with the lowest carbon footprint in the world.

"Achieving these ambitious targets will require more than 42,000MW of clean and renewable energy by 2050. This project is one of the most important projects that will contribute to these needs. It has a planned capacity of 5,000MW by 2030, with a total of Dhs50bn in investments, to accelerate the transformation towards solar power," Al Tayer explained.

"The Mohammed bin Rashid Al Maktoum Solar Park will provide Expo 2020 Dubai with a dedicated capacity of 464MW of clean energy. This will be the first Expo in the world to be completely powered by clean energy," he added.
Source: Gulf Business